Gypsum deposits in the world
Falling under the category of calcium-based building materials, gypsum is the fifth most abundant substance in nature. Gypsum is found in almost all parts of the world. As for Iran, it can be found in areas such as the central desert and around Tehran, Azerbaijan, Jajrood and around Mashhad. Being a sedimentary rock with a strong affinity, gypsum is therefore not found in pure form. It is mostly found in combination with lime, clay, carbon and iron oxides. (Gypsum in nature is mostly mixed with lime and clay). Like most other used stones, gypsum is extracted by hole blasting and explosion. In cases where the reserve is discovered at a mountain or hilltop and the gypsum layers are continuous along the horizon, extraction will be possible by continuous extraction machinery. Gypsum deposits are present in all continents. More specifically, large gypsum deposits exist in America, Asia and Australia. In Europe, gypsum mines are also extracted on the surface. In North America, gypsum mines are shallow, while there are gypsum deposits in the Utah deserts in the form of powders. The identified gypsum reserves in the world are estimated at more than 1.5 billion tons. The amount of gypsum reserves by country has been given in the table below.
| | |
| --- | --- |
| Area | Volume of reserves (million tonnes) |
| Iran | 900 |
| Europe | 800 |
| USA | 730 |
| Canada | 450 |
| Asia (excluding Iran) | 100 |
| Mexico | 70 |
| South America | 70 |
| Africa | 70 |
| APAC | 70 |
| Other countries in Central America | 20 |
| Total | 3300 |
According to the table, Iran accounts for 5% of world gypsum production, ranking second right after USA.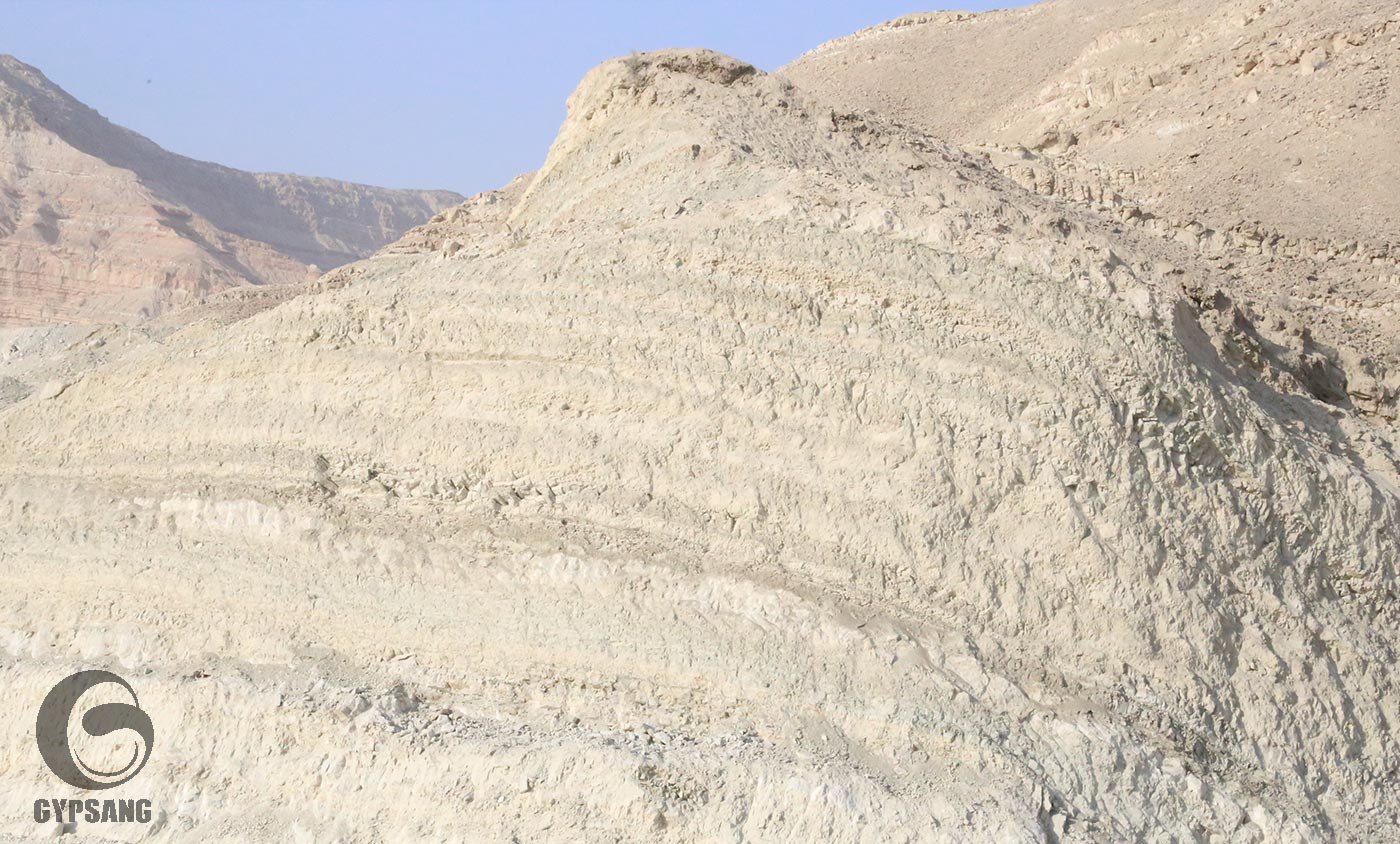 Gypsum reserves in Iran
Belonging to the Tertiary period, gypsum mines in Iran have sedimentary origin and are located on the earth's surface. Iranian gypsum deposits come with different qualities and different geological conditions, found in almost all parts of the country, especially in central areas and around Tehran, Jajrood, Azerbaijan, around Mashhad and so on. Overall, there are more than 260 major gypsum mines around the country, from which about 16-17 million tons are extracted annually. The gypsum products are used for construction, cement production, medicine, food products, cosmetics, agriculture, paper industry, etc. The volume of extraction and utilization grows every year. The following table indicates the gypsum reserves across Iran.
| | | | |
| --- | --- | --- | --- |
| Number of reserves | Province | Number of reserves | Province |
| 7 | Lorestan | 37 | East Azerbaijan |
| 5 | Mazandaran | 10 | East Azerbaijan and Ardebil |
| 19 | Markazi | 15 | Isfahan |
| 14 | Hormozgan | 31 | Ilam |
| 6 | Yazd | 8 | Kermanshah |
| 5 | Qazvin | 29 | Bushehr |
| 11 | Qom | 19 | Tehran |
| 8 | Kurdistan | 2 | Chaharmahal and Bakhtiari |
| 22 | Kerman | 27 | Khorasan |
| 77 | Kohgiluyeh and Boyer-Ahmad | 25 | Khuzestan |
| 1 | Golestan | 5 | Zanjan |
| 90 | Fars | 12 | Semnan |